Project: Mosman Square and Village Green
Landscape Architect: Aspect Studios
Location: Mosman, NSW

Mosman's iconic Square and Village Green have been officially reopened following a comprehensive urban renewal project, transforming these beloved public spaces into vibrant hubs for community gatherings, outdoor dining, and family-friendly activities. The Square now features an interactive play area seamlessly blending into the natural surroundings, providing a haven for children's imagination and exploration. This addition complements the Village Green's expansive lawn, suitable for various activities such as open-air movies, monthly markets, and leisurely strolls.
Historical preservation has been a priority, with the careful restoration and relocation of the 18th-century Italian Antico Fountain to a more prominent position. Sustainability has also been central, incorporating reused materials from the original Square, including re-laid pavers and excess soil repurposed for the Village Green's new turf surface. Moreover, a significant focus on greenery has seen the planting of thirty-one new trees, over 1,200 shrubs, and feature plants, with low-carbon concrete edging utilized for garden beds to optimize natural rainwater usage.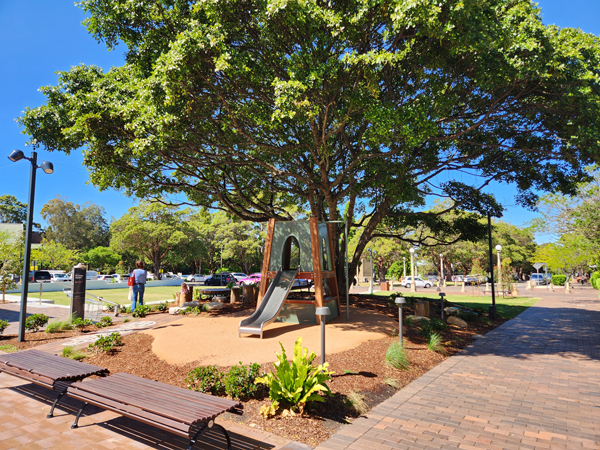 A crucial aspect of the revitalization project involved the enhancement of the Square's drainage system. Partridge's Hydraulic team conducted a meticulous inspection, considering the location of existing drainage pits, trench drains, and site contours. Recognizing the slope towards The Crescent and the insufficient capacity of some pipes to convey storm water flows, hydraulic engineers designed and implemented an upgraded drainage system. This system effectively manages storm water runoff, preventing flooding and waterlogging during heavy rainfall events.
The improved drainage infrastructure plays a pivotal role in maintaining the Square's usability and safety in all weather conditions. It ensures that the space remains welcoming and enjoyable for community gatherings, outdoor dining, and family-friendly activities, regardless of the prevailing weather conditions