Project: Northbridge House
Architect: Tobias Partners
Builder: Pacific Plus Constructions
Location: Northbridge, NSW

Located in the serene landscape of Northbridge, this newly constructed residence beautifully blends architectural excellence with a consideration of environmental consciousness. Spearheaded by Tobias Partners, the design seamlessly harmonises the structure with its natural surroundings, paying homage to the area's rich history and the Cammeraygal people who once inhabited the land.
The unique structural challenges that demanded innovative solutions.
The use of predominantly off-form in-situ concrete required careful attention to various elements, including heated polished concrete floors, bespoke balustrades, large steel-framed windows, specialist glazing systems, excavation, temporary shoring, permanent pile shoring walls with rock anchors, a swimming pool, and complex bespoke landscaping. The cube-shaped design not only maximises natural light and ventilation but also minimises the home's footprint, showcasing a strong commitment to sustainability. Local materials such as exposed concrete, charred cedar panelling, and polished plaster not only enhance the aesthetic appeal but also contribute to year-round passive climate control.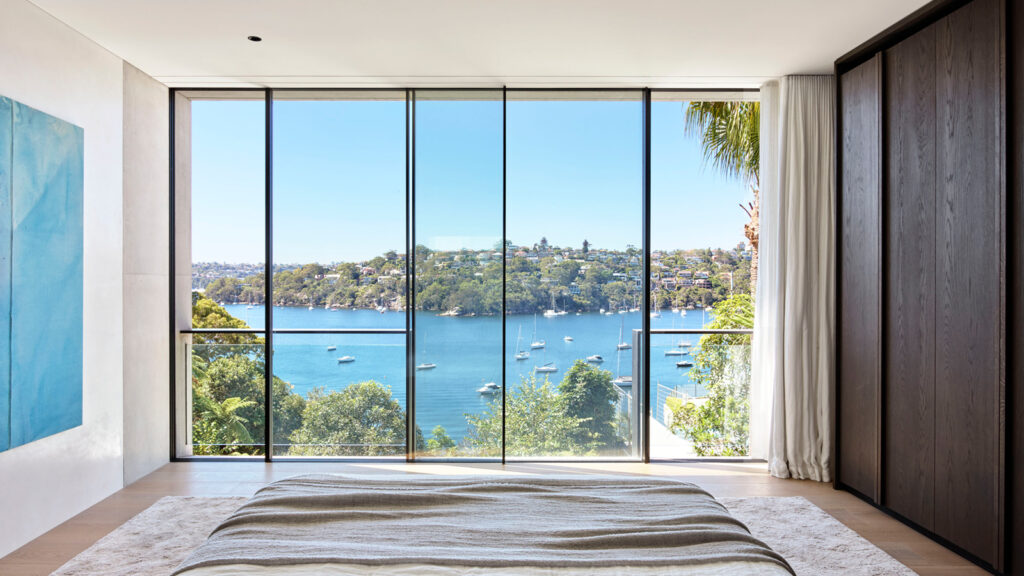 Meticulous spatial planning and material choices by Tobias Partners strike a harmonious balance between privacy and openness. The journey to the residence begins with long concrete bridge of nearly ten metres which has been placed alongside a void to create a double height space below. This provides glimpses of Middle Harbour while maintaining a sense of seclusion. Exposed concrete edges create consistent bands around the building, carefully designed by Partridge to minimise the risk of cracking.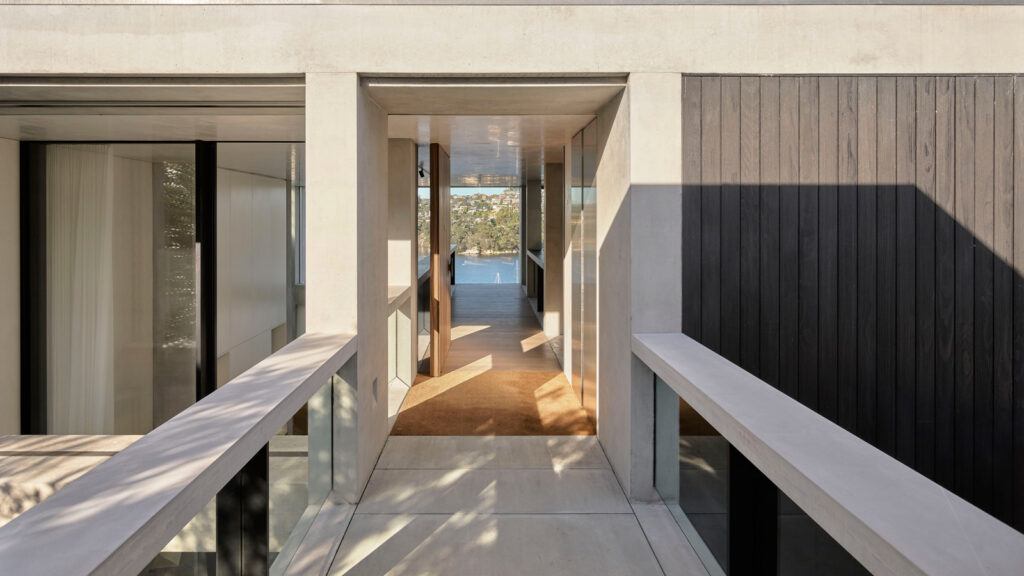 The structural integrity of the residence is a testament to the innovative approach of the engineering team. The predominantly off-form in-situ concrete structure seamlessly integrates various elements including various rebates for window and door frames, lighting and other services. This resulted in the need for over 20 types of concrete column profiles and corresponding steel reinforcement detail. Below is a sample of the column details. Each column has a unique shape to accommodate these features and to ensure flush thresholds and no visible glazing tracks.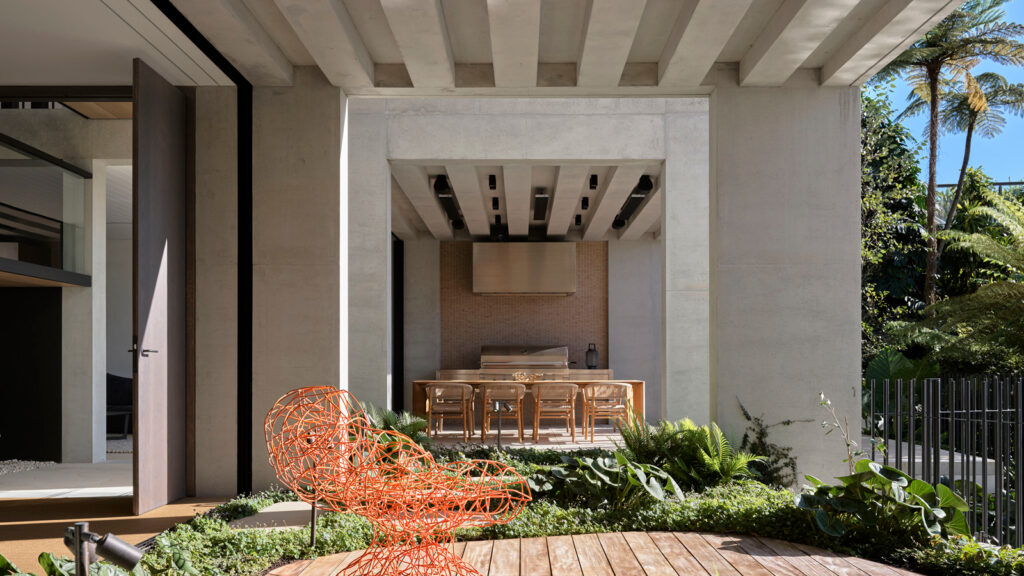 A feature ribbed, coffered ceiling was introduced at the later stages of the project, introducing additional complexity to the already finely designed exposed concrete elements of the house.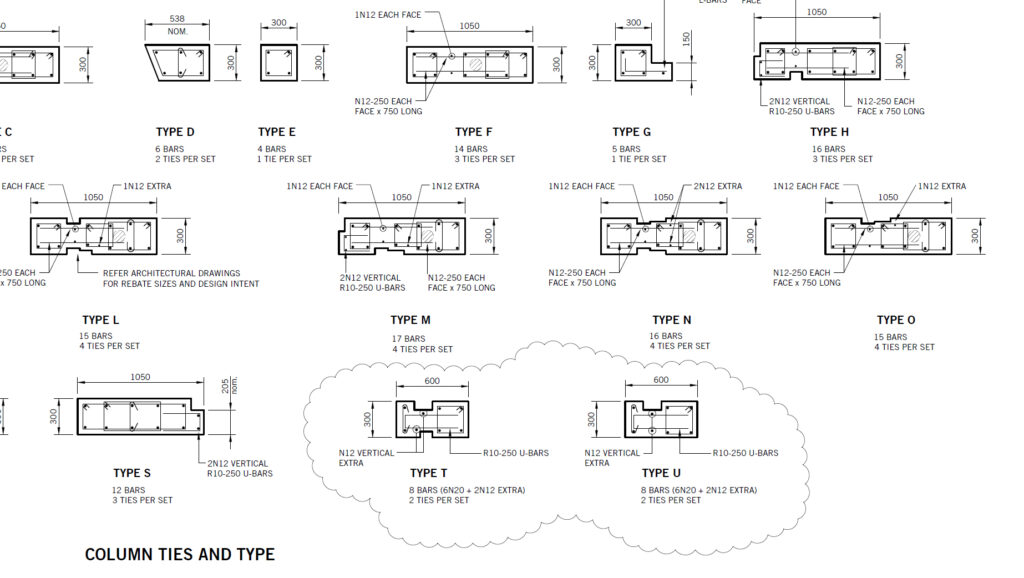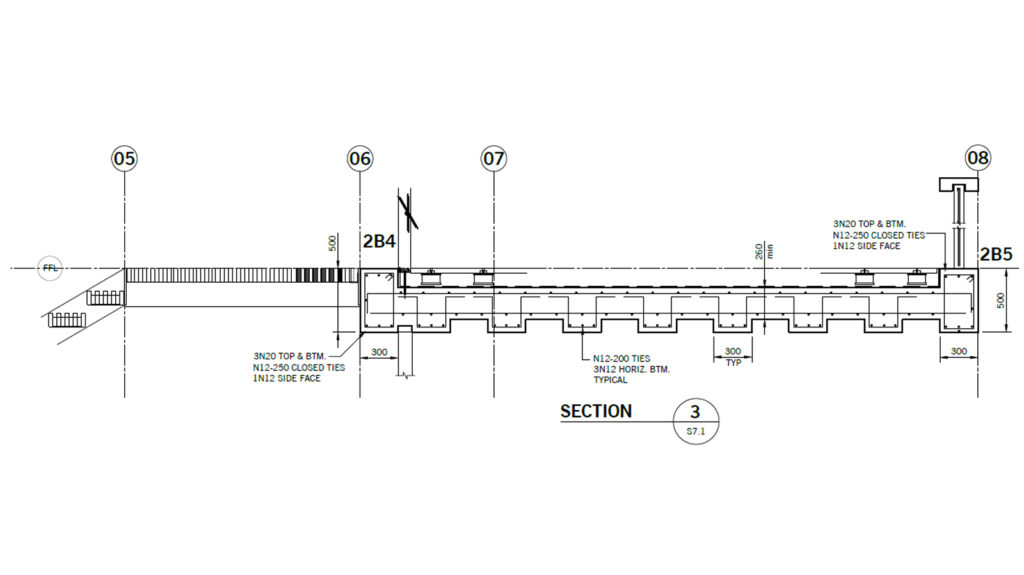 The meticulous execution of deep excavation in clay overlying sandstone bedrock, shoring, and foundation work ensures the structure's stability and longevity. Stepped shoring was designed to accommodate the extreme slopes on the site, and rock anchoring was utilised along the boundary to ensure the stability of the neighbouring properties through the construction phase of the project.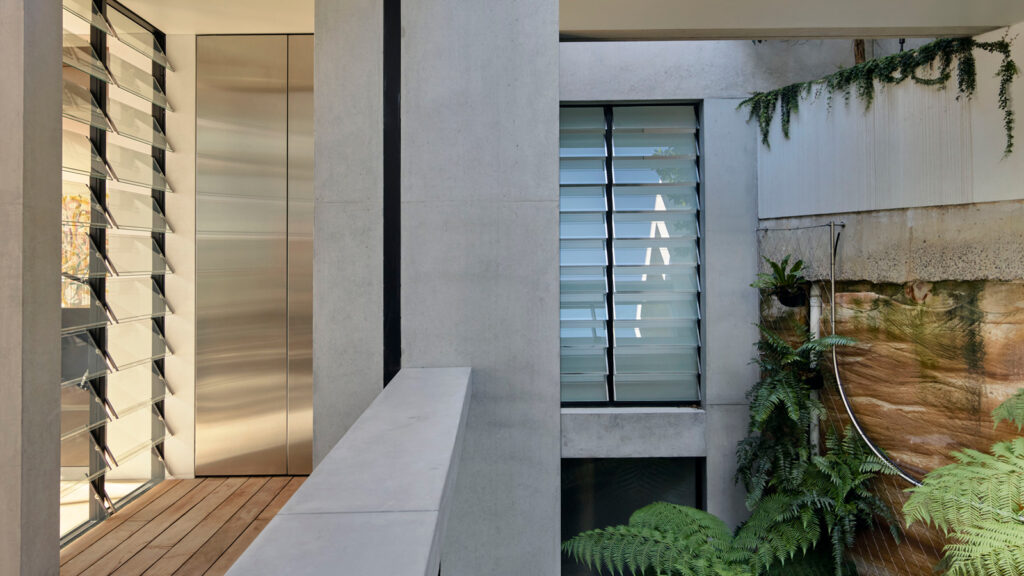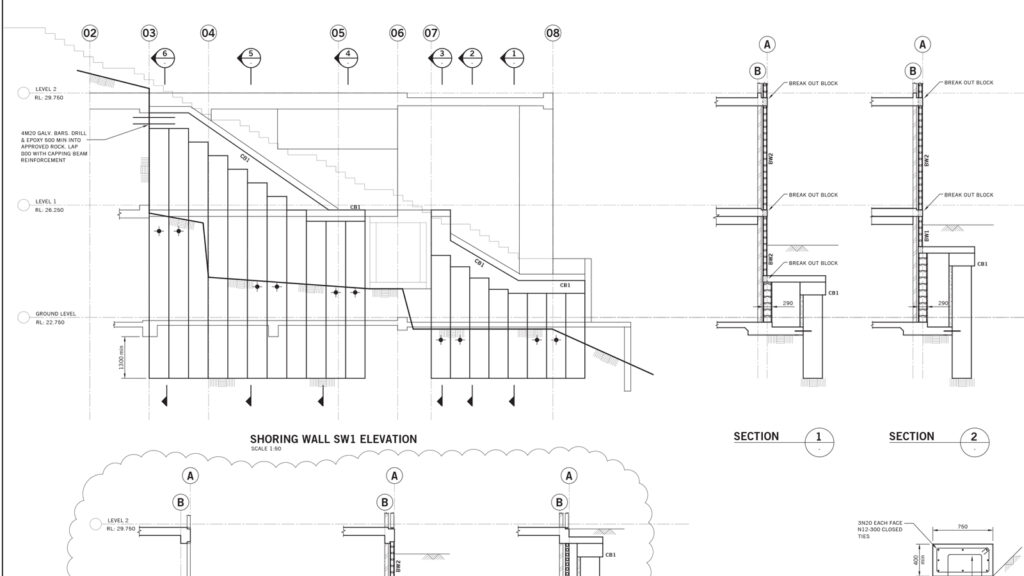 Whilst most of the design work was completed and documented before the builder mobilising on site, a large amount of design, sketches, and instructions were undertaken and delivered during the build, as a result of architectural changes and to accommodate pour sequences and lead times for the more bespoke steel and reinforcing elements. Partridge advised on all manner of issues from construction sequencing, temporary support, jointing and pour breaks, custom formwork design, car stacker details, bespoke façade framing, waterproofing, furniture, and bespoke landscaping elements including fences and gates. To achieve a smooth construction process Partridge had to respond quickly to site queries and last-minute architectural design items to avoid delays in the construction program.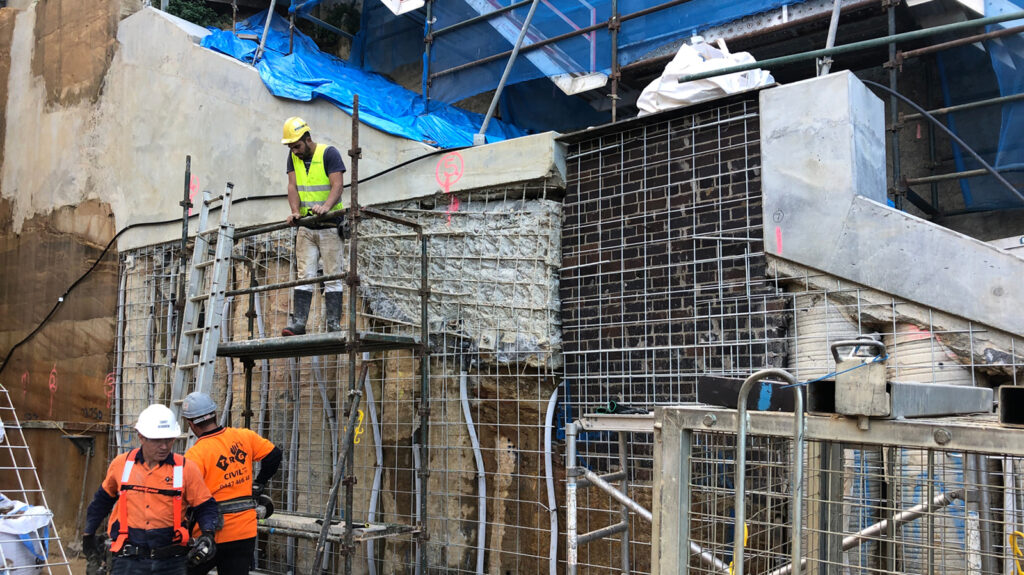 This project presented unique challenges, due to its location and the design brief. It required a high degree of flexibility to solve complex problems which arose throughout the construction period. The result was a successful collaboration with an excellent group of architects and construction team. The final build is a testament to hard work, intelligent collaboration, and mindful attention to detail. The house is an embodiment of relaxed living, taking full advantage of its stunning position, with stunning Sydney Harbour views, and streams of natural light throughout the build.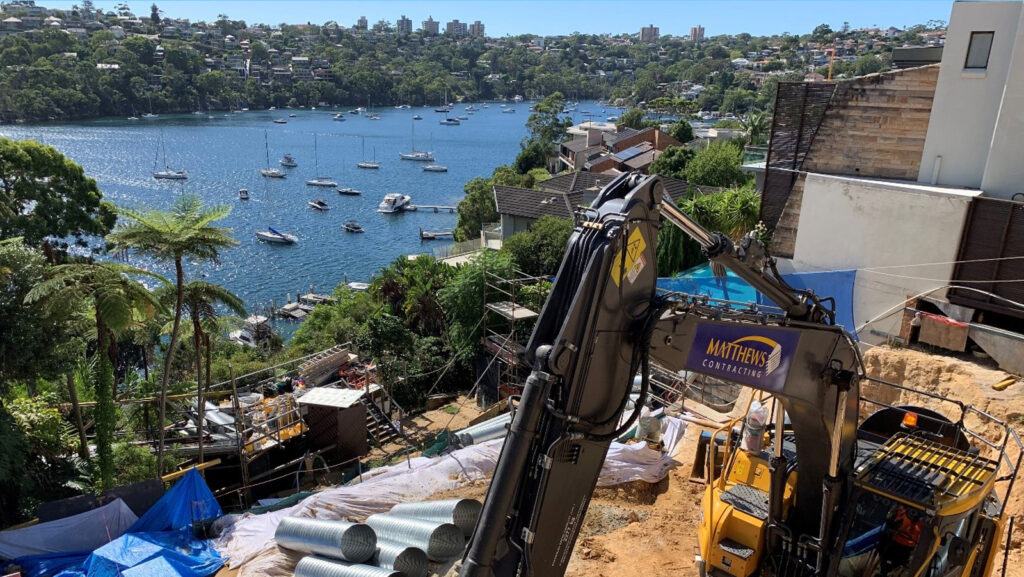 The Local Project Publication Issue 12 Trio – The Local Project